welcome to paperwhites!
A custom design studio located in Milwaukee, Wisconsin
We offer unique, custom-designed wedding invitations, as well as day of stationery, celebration stationery, printing and design services. With hundreds of custom creations over our 15 years in business, our experienced team maintains a strong sense of style, understands details matter and executes with excellence.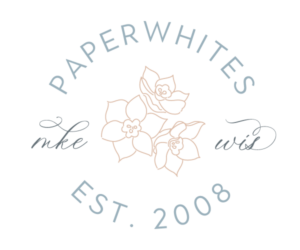 "Deb and the Paperwhites team made invitations and the stationery process easy for us in planning our wedding. They were able to create a beautiful suite of invitations for us with a style that we loved, keeping in mind our budget."
"I came to Paperwhites with photos of the invitations we were wanting to use and they outdid what we were looking for. Invitees commented many times on the incredible design and quality of the invites. She listens and really works one-on-one to make this process fun."
"This was one of the smoothest parts of booking our wedding and if we had to do it all over again we would use Paperwhites again without a doubt. Everything was beautiful and just as we imagined it would be!"